Although sharing the way I see via photos is satisfying, the things I make with my hands are more satisfying. Satisfaction comes from "process" and making tangible expressions of thought. For me, 3-D allows for a more integrated vision. The psychology of my 3-D work is usually obvious. Sometimes, it's just fun. Life is often hard; humor creates balance.
Auntie Gert Clock '04
One of my great joys is being an aunt. I was an aunt at 8 and ever soooo proud. It seemed a shame that there were Grandfather clocks and Grandmother clocks but no Aunt or Uncle clocks. I've been collecting bits for about 5 years and recently, focusing on making more of my creations take form.
Gert is so named because her eyes are copied from Picasso's portrait of Gertrude Stein. She makes me smile. She is a combination of humor, allegory, social commentary and functional design. Her front grill. closes.
I chose the eye design based on the often goofy yet understandable eye placement chosen by Monsieur Picasso. Bradley Hand was the font choice because it looked like tendrils and lent itself to anthropomorphicizing . Her breasts juggle, her hips sway and her arms are positional. She is a bit of a floozy.
Gert now has a partner, an elegant gent with a nod to Matisse.
75" x 20.5" x 9"
Butterfly
This piece started as a coil of wire in the middle of the road, a few yanks, a bit of soldier and it emerged from its cocoon.
Appx 14" x 13"
Jetson Lamp
This insulator so mimicked the the compact florescent shape that I couldn't resist making a lamp.
8.5"x 5.5"
Oozing Table
This laminated photo of dye lent itself to this playful table.
20"x 30"x 19.5"
The Emperor's New Clothes '04
The concept for this piece has been growing for a long time. If I can shift my right brain thinking to the left brain words, this is about the distortions, myths, beliefs and the downright lies that we are encouraged to believe. This piece could be purely political but I have felt similar confusion and distortion in many aspects of life. Let me list a few, in no particular order and would you please add your own on the scroll below. Thanks.

• And they lived happily ever after…..
• ____ reduces the appearance of wrinkles
• ____ is a sin.
• Leave no child behind
• Weapons of Peace
• You can't buy a championship
• God watches over us.
• Golden years, you're as young as you feel.
47.5"x31"x6.25"
Sometimes a Dust Pan is Just a Dust Pan '05
A design teacher once said to our class, "I think nature only made a few designs and kept recycling them." Perhaps Industry falls into the same patterns
Key Hole Box '00
These keyholes were found at the Wellfleet dump and lent themselves to the idea of voyeurism.
17.5" x 7" x 6"
Gus Clock '06
Inspired by a portrait of Auguste Pellerin by Matisse, a companion clock to "Gert". His moustache twirls, but his baguette is removable.
75" x 20.5" x 9
Bye Lines '05
A clothesline is a simple, energy-efficient tool that makes the world a better place, as does Seven Days, a weekly newspaper in Burlington, Vermont.
• Lines that communicate
• Airing out clothes, ideas, political opinions
• "Hanging out the dirty laundry"
• Images and insights about community
• Routines of life - mowing the lawn, laundry and Seven Days
Alright, alright, maybe there's no point, and I'm simply playing with metaphors because I love the look of laundry hanging on the clothesline, the fragrance, the knowledge of others living close by going about their daily lives
"Bye Lines" because it is getting rarer to see laundry hanging out (in some places it's prohibited). I wonder what's been lost and what's been gained.
37" x 10 - 20"
Cubist Self Portrait 2
This is a replacement piece '06.
The idea of self portrait seemed simple at first. But honestly, I think no real self could ever be shown. We hardly see ourselves. Glimpses of facets are all we see. Add to this, any self I try to show to you is interpreted through you.
You can't totally see me, I can't really see myself.
What you do see as you peer into this frame, are bits of a person who if looking at me creates me into an image. This image is made possible only by the integrating act of viewing, but it is always incomplete. We are all wonderfully faceted, layered, complex, integrated puzzles of plasm
10 5/8 x 12 5/8
Found Object '04
Many of Marcel Duchamps words on art resonate for me. This latch was in the Wellfleet MA dump, along with many other treasures. I liked the clean modern sculptural lines. It could be the symbol of humanness
9 3/8" x 11 3/8"
Bride & Groom
The bride in this dipstick couple is a bit ambivalent.
25"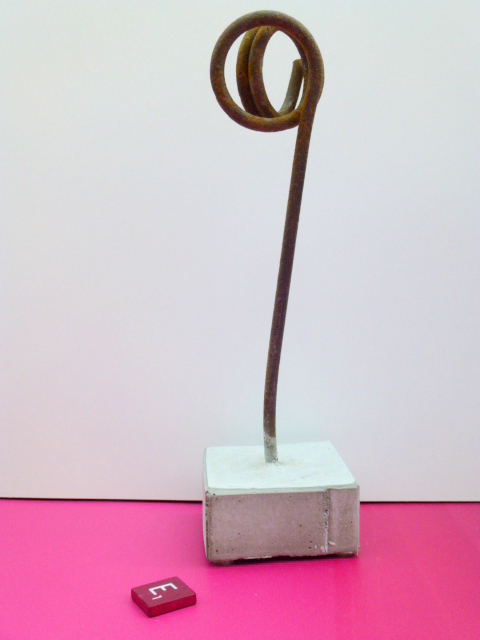 Coil
This is a steel and cement piece. I like the shape.
10"
Dipsticks
The cement base anchors the waving dipsticks.
25#
Love Hurts
This strip of coil nail, practically made itself into a heart.
Outside the Box '08
This evolved from a comment, to which I replied,
"I didn't know there was a box until I was 45 years old."
38" x 20" x 20.5"
Pink Torso '08
A found object and paint.
32" x 14" x 13"
Umbrella Stand '08
This was created from bits left-over from another project.
33.75"
Vent Light
This dryer vent hose makes a fun flexible light. I like changing the shape.
95"
Yellow Torso '08
The possibilities are endless.
32" x 14" x 3"