Most images that elicit the question "What is it?" I consider abstract.When the vision and the answer click, it's ahhh, now I see it. They often can be hung horizontally or vertically, even upside down. The close up framing helps create the abstract effect. It is an intimate look.
Pollackesque
This is the floor in a wall paper company, in London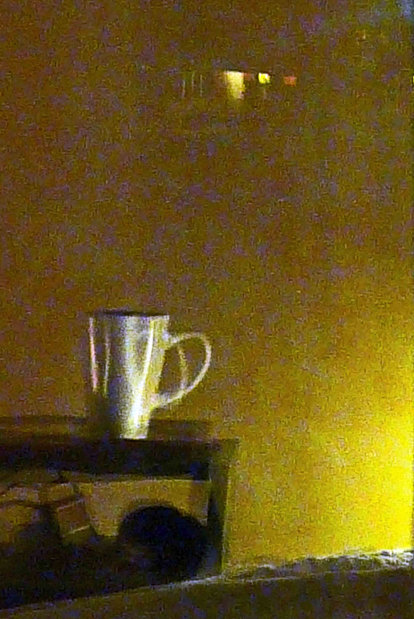 Cup
This cup was reflected in the mirror and from there into the window, it is so painterly and one of of kind as I accidentally reduced it.
Diagonal Paint Box
The strength of the diagonal
Ferrisburgh A
I fell in love with this rusty truck.
Ferrisburgh B
Same truck, the flagness of this image is what made me keep the photoshopped colors.
Ferrisburgh C
A who knows what on an old truck.
Green Color Field
This color field photo is textural, with depth; taken at Eastern Market in Washington D.C.
Half an O
This is a detail of a sign on St Paul St in Burlington, VT
Harvard Square Hydrant
Fire hydrant, Cambridge, MA
Orb
This was a detail on an old boxcar
Paint Tray
I thought I wanted to photograph a newly painted boat but was seduced by the paint tray.
Shadow
This is a view through a lace curtain, in Stratford, QC.
T-Shirts
I have a passion for clotheslines